March 15, 2023
Maryland Public Television's (MPT) Steven J. Schupak will be awarded the Mendez Award at the Maryland International Film Festival in Hagerstown, Maryland on Thursday March 23, 2023.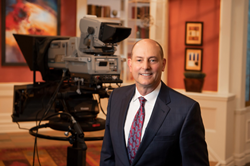 Maryland Public Television's (MPT) Steven J. Schupak will be awarded the Mendez Award at the Maryland International Film Festival in Hagerstown, Maryland on Thursday March 23, 2023.
Film Festival Board of Directors President Nicole Houser said, "The Mendez Award is awarded to someone who has succeeded and made a positive impact in the Television and Film Industry, or has supported film and television and has given back to the community. Steven Schupak is an extremely well-known and appreciated television professional. He gives back to the community in numerous ways, and is also being recognized for his support of the Arts, and for his support of high-quality television production and filmmaking."
Schupak is the statewide public television network's executive vice president and station manager. During his 20-plus year tenure at MPT, the network has earned numerous television industry honors for productions including Star-Spangled Spectacular: The Bicentennial of our National Anthem and its long-running series MotorWeek, plus the two-part documentary Music of Ireland, Potomac by Air, annual Chesapeake Bay Week® programming, and popular weekly series Maryland Farm & Harvest.
Among MPT's regional Emmy® Awards are the 2017 Overall Excellence award, and a pair of Community Service awards, presented both in 2017 in recognition of its multi-year MPT Salutes Vietnam Veterans initiative and in 2018 for its Breaking Heroin's Grip: Road to Recovery documentary. Schupak arranged to have the one-hour Breaking Heroin's Grip simulcast on 38 TV and radio stations throughout Maryland and Washington, D.C. to help move individuals with substance abuse disorders to seek assistance. This effort led Schupak to establish the successful Maryland State Ad Agency at MPT, which brings awareness to issues including the dangers of opioids, problem gambling, COVID-19, and the 2020 U.S. Census.
The National Academy of Television Arts & Sciences' National Capital Chesapeake Bay Chapter inducted Schupak into its prestigious Silver Circle in 2020. The award recognizes individuals who have made significant contributions to the broadcast or cable industry for 25 years or more.
Prior to joining MPT, Schupak was vice president at Henninger Media Services, running the firm's production and distribution group and supplying cable networks and international markets with award-winning programming, including In the Grip of Evil and The Story of Top Gun. He also worked at Eon Corporation (formerly TV Answer), a pioneering interactive TV firm, and at COMSAT Video Enterprises, developing and producing content for subscription and pay-per-view video services. He launched his career at ABC Television Network, initially as a production manager for projects ranging from World News Tonight and Dick Clark's New Year's Rockin' Eve to the men's U.S. Open and The America's Cup Race.
The first official Mendez Award was named for, and was awarded in 2013 to Antonio "Tony" Mendez, CIA Master of Disguise, Founder of the Spy Museum, and Award-Winning Author and Painter. The award was given one month after "ARGO" won the Best Picture Academy Award.
"Steven Schupak actually led the Q and A on-stage interview of Tony and Jonna Mendez, in 2013. He has been a supporter of the film festival since very early on," said Maryland International Film Festival-Hagerstown co-founder Tom Riford. "Steven Schupak has made a real difference in Maryland, in both promoting the entire state, and also shining attention on issues of critical importance."
Other award recipients have included: in 2014, Joe Carnahan, Film Director and Producer, known as one of the most prolific film-makers in Hollywood, and for his ongoing support of MIFF-H as the volunteer Creative Director.
In 2015, Nora Roberts, Author and Entrepreneur, known as the world's most famous Romance Writer, best-selling author, and contributor for Washington County's economic development and tourism. Many of her books have been turned into films and television movies.
In 2016, then-Frederick County Councilman Billy Shreve, known for his advocacy in supporting film in Maryland, and also for being the driving force behind Classmates4Life (an anti-drug film festival for all school students in Frederick County, beginning a state-wide pilot program). The contest received national recognition for its public awareness campaign.
In 2017, Kerry Cahill, award-winning actress from AMC's The Walking Dead. Cahill was also a supporting actress in the Oscar nominated film Mudbound (2017). She was also recognized for her work with veterans' organizations.
In 2018, Amir Arison, award-winning actor, from NBC's The Blacklist. Arison was recognized for his ongoing support for Arts nonprofits, and for his work supporting treatment and help for people with mental illness and his passion for helping animal rescue and animal adoption.
In 2019, then-Maryland Governor Larry Hogan was recognized for his leadership in assisting the film industry in Maryland. Governor Hogan was also recognized for his efforts in supporting the Historic Maryland Theatre expansion, the expansion of the Barbara Ingram School for the Arts, and the expansion of the University System of Maryland Hagerstown. He signed into law the Maryland Film Incentive Program, which helps independent filmmaking, and provides increased tax incentives for the film industry. While being a national leader during the Covid Pandemic, Governor Larry Hogan is a humanitarian, and additionally has helped many non-profit organizations.
Barry Ratcliffe, who received the award in 2021, was recognized for his work in film and television, and for his considerable nonprofit work. He is known as "Hollywood's Auctioneer," and has appeared in numerous films and television series. He is active in community drama and arts, volunteering to teach classes and does motivational talks. He is very active in drug-free programs, and has been a national social issue spokesperson.
In 2022, Hollywood actress Ann Mahoney was recognized for her contributions to filmmaking and television, and also for her women's rights advocacy. She additionally was recognized for her work as a professor of acting.
For more information about the Maryland International Film Festival-Hagerstown, see: http://www.marylandiff.org.