March 13, 2022
Contact: Nicole Houser, Maryland International Film Festival-Hagerstown board president, 301-992-3650 (media inquiries only, please)

For Immediate Release:
10th Maryland International Film Festival-Hagerstown Announces 2022 Mendez Award, Hollywood Actress Ann Mahoney Recognized for Film and Television Success and Advocacy for Women's Equity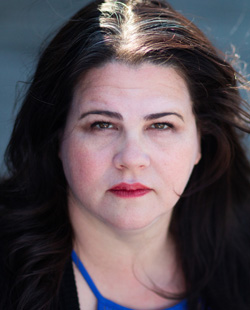 (Hagerstown, MD March 11, 2022) -- Actress Ann Mahoney will be awarded the Mendez Award at the Maryland International Film Festival in Hagerstown, Maryland on Friday March 25, 2022.
Film Festival Board of Directors President Nicole Houser said, "The Mendez Award is awarded to someone who has succeeded in the Television and Film Industry; or has supported film and television and has given back to the community. Ann Mahoney is an internationally renowned actress and has been a fixture in film and television for many years. She gives back to the community in numerous ways, and is also being recognized for her support of the Arts, her wonderful warmth, and her outspoken advocacy for women involved in filmmaking."
Ann Mahoney will be attending the opening night events for the 10th Maryland International Film Festival. Ann Mahoney is currently recurring in the NBC television series THE THING ABOUT PAM, starring Renee Zellweger. She co-stars in CHARMING THE HEARTS OF MEN with Anna Friel, Sean Astin, and Kelsey Grammar, currently on Amazon Prime.
Best known for her portrayal of Negan-slapping "Olivia" in THE WALKING DEAD (recurring seasons 5-7), she has also played Gladys Presley (series regular) in SUN RECORDS. She starred opposite Tim Blake Nelson & Jacob Batalon in the indie-celebrated film THE TRUE DON QUIXOTE, and opposite Andrew Garfield in Director Ramin Bahrani's 99 HOMES. She has recurred in the Peabody award-winning series RECTIFY, and guest-starred on GOOD COP. Other credits include SAME KIND OF DIFFERENT AS ME, LOGAN LUCKY (Director Steven Soderbergh), BAD MOMS, BIG MOMMA'S HOUSE 2, BAREFOOT, and HART OF DIXIE, among many other television and film projects. She has appeared in nine films that havebeen official selections shown at the Maryland International Film Festival-Hagerstown, including last year's opening night film called: THE OTHER SIDE OF NIGHT.
Her other love is writing, and she has created and written five television series' pilots. She also has written and created a woman-centric, midlife-crisis feature film entitled FANFARE.

Ann is an "Extraordinary Professor of Acting" at Loyola University in New Orleans, teaching The Suzuki Method of Actor Training, Viewpoints, and Acting for Camera. She holds a BA from Greensboro College in Theatre Arts, and an MFA from The University of Connecticut-Storrs in Acting. She also has appeared in many regional theatre productions, working with Tony award-winning directors and actors. Her favorite role is Mom to her two amazing kids, who teach her more about the preciousness of life, than anything else ever could.
The first official Mendez Award was named for, and was awarded in 2013 to Antonio "Tony" Mendez, CIA Master of Disguise, Founder of the Spy Museum, and Award-Winning Author and Painter. The award was given one month after "ARGO" won the Best Picture Academy Award.
Other recipients have included: Joe Carnahan, Film Director and Producer, known as one of the most prolific film-makers in Hollywood, and for his ongoing support of MIFF-H as the Creative Director.
Nora Roberts, Author and Entrepreneur, known as the world's most famous Romance Writer, best-selling author, and contributor for Washington County's economic development and tourism. Many of her books have been turned into films and television movies.
Former Frederick County Councilman Billy Shreve, known for his advocacy in supporting film in Maryland, and also for being the driving force behind Classmates4Life (an anti-drug film festival for all school students in Frederick County, beginning a state-wide pilot program). The contest received national recognition for its public awareness campaign.
Kerry Cahill, award-winning actress from AMC's The Walking Dead. Cahill was also a supporting actress in the Oscar nominated film Mudbound (2017). She was also recognized for her work with veterans' organizations.
Amir Arison, award-winning actor, from NBC's The Blacklist. Arison was recognized for his ongoing support for Arts nonprofits, and for his work supporting treatment and help for people with mental illness and his passion for helping animal rescue and animal adoption.
Maryland Governor Larry Hogan for his leadership in assisting the film industry in Maryland. Governor Hogan was also recognized for his efforts in supporting the Historic Maryland Theatre expansion, the expansion of the Barbara Ingram School for the Arts, and the expansion of the University System of Maryland Hagerstown. He signed into law the Maryland Film Incentive Program, which helps independent filmmaking, and provides increased tax incentives for the film industry. While being a national leader during the Covid Pandemic, Governor Larry Hogan is a humanitarian, and additionally has helped many non-profit organizations.
Barry Ratcliffe, who received the award in 2021, was recognized for his work in film and television, and for his considerable nonprofit work. He is known as "Hollywood's Auctioneer," and has appeared in numerous films and television series. He is active in community drama and arts, volunteering to teach classes and does motivational talks. He is very active in drug-free programs, and has been a national social issue spokesperson.
For more about Ann Mahoney, see: www.imdb.me/annmahoney.
---
For more information about the Maryland International Film Festival-Hagerstown, see: www.marylandiff.org. The Maryland International Film Festival – Hagerstown is a 501(c)3 non-profit organization and is organized by filmmakers and marketing executives who understand the power of film and support the talent of the independent filmmaker. One of the film festival's goals is to encourage the development of filmmaker networks including media, distribution and the association with other artists. MDIFF-Hagerstown, believes in the importance of giving back to the community and donates a portion of the proceeds to charities around the globe. The festival is sponsored by the Nora Roberts Foundation, the Washington County Government (Office of Grant Management), the City of Hagerstown, the Washington County Arts Council, Hagerstown-Washington County Convention and Visitors Bureau, Gideon Properties, Bowman Hospitality, University System of Maryland Hagerstown, and Tom Riford.